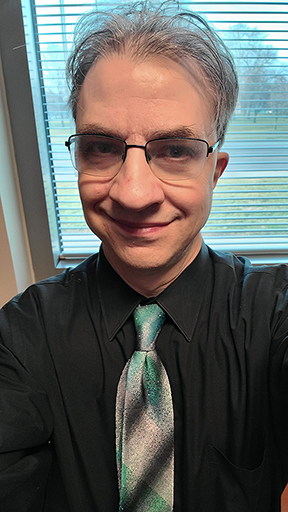 Job Title: Senior Electronic/Media Services Librarian
Office: LC 3013
Campus Phone: 419.530.2759
E-Mail: Ryan.Overdorf@utoledo.edu
Expertise
Ryan S. Overdorf is an expert on the Web Content Accessibility Guidlines 2.1 (WCAG 2.1) and the creator/lead author of A Pithy Guide to Web Accessibility: WCAG 2.1/Section 508 and A Pithy Guide to Web Accessibility: Listing Policies Implementing WCAG 2.1/Section 508.
Biography
Ryan S. Overdorf received his B. S. in Political Science and Sociology from Indiana Wesleyan University in 1994, and his Master's degree in Library Science from Indiana University in 1999. He completed his J.D. at the IU Robert H. McKinney School of Law in 2001. He joined the LaValley Law Library in 2001 as the Electronic/Media Services Librarian and was later promoted to the Senior level.
Ryan manages the LaValley Law Library Media Services unit. He designs multimedia installations, supports classes and events and maintains the audiovisual infrastructure for University of Toledo College of Law.
Professional Roles
Chair, Adaptive Technologies Committee, Computing Services Special Interest Section, American Association of Law Libraries

Professional Presentations

"Beyond Copyright?: How Licensing and Digital Rights Management Pose Challenges to the Provision of Electronic and Media Services" 2009 AALL Annual Meeting (Coordinator, Moderator, Speaker)
"WYDSIWYG: What You Don't See is What You Get" (program on web accessibility) 2009 AALL Annual Meeting (Speaker)
"Changing Channels: How New FCC Regulations for Wireless Microphones and Broadband Affect (Almost) Everyone" 2010 AALL Annual Meeting (Coordinator, Moderator, Speaker)
"Diversity Symposium: Adaptation: How Technology is Changing and Being Changed by Diversity in the Law Library World" 2010 AALL Annual Meeting (Speaker)
"Can the National Broadband Plan Create a Better and Faster Internet?" 2011 AALL Annual Meeting (Coordinator, Moderator, Speaker)
"Assistive Technology Usability and Its Effect on the Digital Divide" 2011 AALL Annual Meeting (Coordinator, Moderator, Speaker)
"Audio Description and Closed Captioning: How Proposed Federal Regulations May Impact the Collection and/or Creation of Videos in Your Library" 2011 ORALL Annual Meeting (Speaker)
"Using Creative Commons Licenses" 2012 AALL Annual Meeting (Coordinator, Moderator, Speaker)
"Manage Your Role in the Institutional Project and Communicate Your Library's Value to the Institution: Seven Principles for Success" 2013 AALL Annual Meeting (Coordinator, Moderator, Speaker)
"Web Accessibility Will Be the Law: Are You Prepared?" 2015 AALL Annual Meeting (Coordinator, Moderator, Speaker)